Luxury may take many forms, but having a home that exists on the bleeding edge of cultural relevance through timeless designs or taking a brave new approach to a design classic is certainly one of the most publicly visible ways to show it off. Homes aren't the only hallmarks of architectural extravagance, however. Eye-catching constructions can take a great many forms.
Since there are so many fine examples to choose from, there may be a few modern marvels you've never had a chance to see before.
Located between Mecox Bay and the Atlantic Ocean, the Dune Road house cuts a figure that is to be expected of a modern luxury home with styling that hearkens back to contemporary architectural designs of a modern future that had yet to occur.

Modern amenities are in no short supply, with four-story elevator access, a four-car garage complete with electric car charging facilities and an absolutely beautiful view of the surrounding countryside and bay thanks to ambiance-friendly glass walls.
It may be a seaside home yet it doesn't lack the traditional private pool—except this one resides on the Dune Road house's roof—which makes it perfect for the ever-elusive rooftop pool party.
Finding a more visually striking building than the Morpheus is a difficult feat. After all, its design clearly draws attention to just how carefully-designed a monolith it is with unusual lines and curves that seem to be out of reach of most contemporary architects.
Surprisingly, the Morpheus was designed to fit an existing space and foundation, yet the late architect Dame Zaha Hadid managed to work two towers supported by an aluminum exoskeleton into that space complete with sky bridges, restaurants, and nearly eight hundred rooms.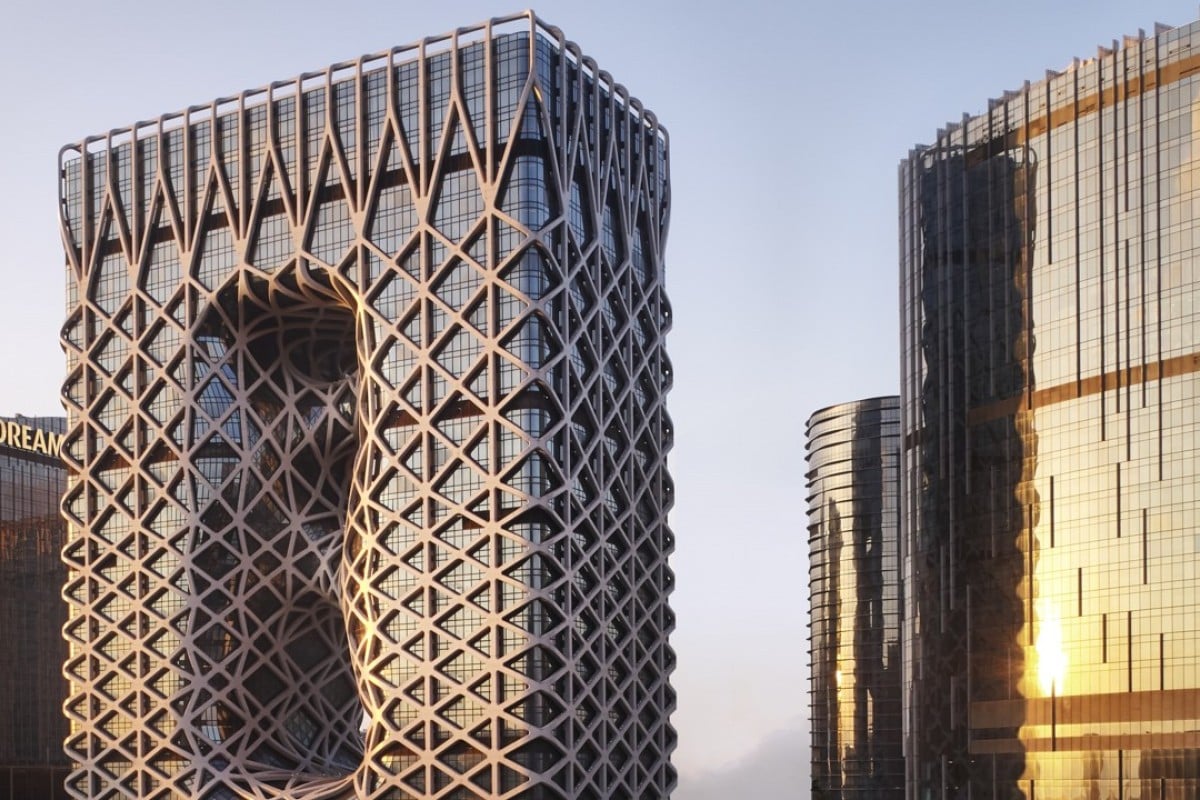 The experience of staying at the Morpheus is tailored towards the hedonistic, as stated by the hotel's interior designer, with reflections of modern superyachts in his design choices.
While a bridge may not be the first thing that springs to mind when contemplating modern luxury architecture, everything about the Zhangjiajie follows modern design ideologies for luxury-oriented designs. After all, designing an all-glass bridge of nearly four hundred meters that only measures in at around sixty centimeters thick at the deck is everything a utilitarian project is not.


It's a striking construction of steel, concrete, and glass that was dreamed up with the intent of allowing tourists to feel as if they were walking on air over a three hundred meter gorge. There are few experiences that match peering down at the world below through the very ground you stand on and its picturesque form doesn't mar the landscape, but rather adds a touch of man's ingenuity to the entire affair.
A project already five years in the making and with a few more to go until its 2020 unveiling, the Jeddah Tower already reaches towards the heavens in a grandiose bid to cement itself as the tallest skyscraper yet erected. It's a $1.4 billion project that is slated to reach 3,280 feet and will doubtlessly be a landmark for decades to come.
After all, it's not just a tall building but rather an important portion of Saudi Arabia's ongoing efforts to reduce the country's dependence on the oil industry. The Jeddah Tower will host apartments, business offices, the world's tallest observation deck and much more. Current photos from the building already show an impressive view from the structure with the world curving off beyond the desert horizon and it will only grow taller over the next two years.
So while modern luxury homes may be the first structures that spring to mind, decadent architectural landmarks dot the entire world in surprising forms and functions. There's no telling when an ambitious designer will next dream of tying together elegant form and function in an unexpected new feature of a sprawling cityscape near you.